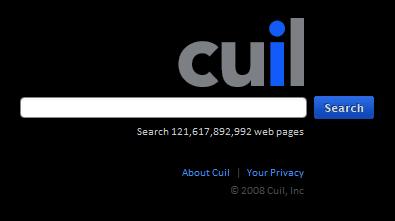 Today I read about a new search engine called Cuil (apparently pronounced Cool) that is from some ex-Googlers.  The "magazine-style" search results are interesting to look at and I'm sure that people searching for their favorite celebrity will be very happy with the presentation.
One problem I've found with Cuil's results page is that it appears they insert random images in with the results.  These random images aren't necessarily associated with the actual page they are lining to.  For example, I searched for labranard on Cuil to see if it picked up some of my pages. The image below shows two of my pages (Apparently a Saint Bernard Labrador Mix is a Big Dog and Articles tagged Labranard) from the results generated.
If you notice, both results have an image associated with them. The part that concerns me (as the owner of the link at the other end of those results) is that I don't know where those images came from. They are not from my site and I don't think they should be associated with my content. The last thing I want is from the copyright owner to come knocking on my door telling me I can't use their image, even though I am not using it.
The other interesting part is that each additional page of Cuil's results seems to duplicate links. On subsequent results pages for labranard, I see the same link/image combination in a different place. It's rather redundant to have multiple instances of the same link on subsequent pages.
Anyways, I'm sure I'll try out Cuil from time to time to see how it's progressing.  I'm always curious to see where my pages show up in the search engines.  Call it vanity. :)
Update: Well, it appears that Cuil is now gone.