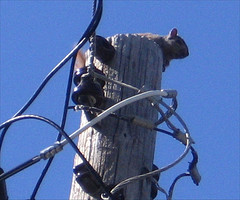 Late in April there was a power outage that affected almost a third of the people on Prince Edward Island. It turns out that the cause was a squirrel chewing on the wires inside of a substation which lead to a fire.
We had our own problems with squirrels and I've seen the damage they can do.
Squirrel blamed for massive P.E.I. blackout
What had me laughing was the following paragraph from the CBC article:
Maritime Electric was able to confirm the squirrel caused the blackout when it recovered the animal's remains. The condition of the remains was described as "not good."
I'll bet the little bugger was "not good".
Image Credit – cupcakes2